FLIGBY v2.0: Redesign after eight years of global service
FLIGBY v2.0 is finally here. After 8 years of intensive service of more than 22 thousand individual users worldwide, the award-winning FLIGBY simulation gets a brand new outlook and extended functionality.
New features in upcoming FLIGBY updates will help you manage your time dedicated to experiential learning more effective by its new 7-episode setup. It will increase security by its HTML-5 coding and will provide you to get a better overview of your decision's consequences with its redesigned Flow-map. This update of FLIGBY is a decisive step toward the interactive movie genre. FLIGBY's new, adaptive UI design will make it easier to use different devices as well. You can start your personal development journey on your laptop and continue across your other devices, including tablets and smartphones. Check out the new features of the redesigned FLIGBY simulation:
From serious game to an interactive movie
Per definition, FLIGBY is a serious game in an interactive movie format. Now, with FLIGBY 2.0 it's time to change the genre. Meeting the expectations of our users, we will put more emphasis on the movie qualities to provide more engagement for the experiential experiential learning.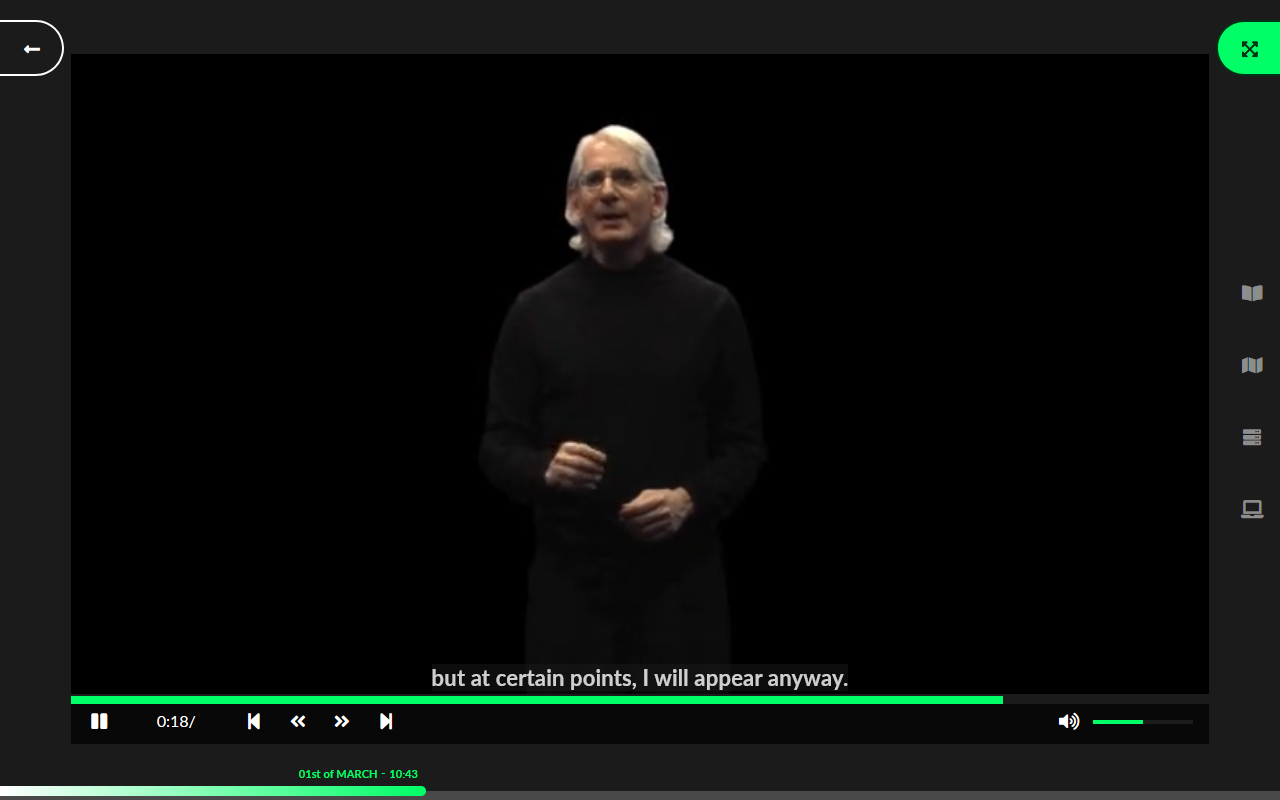 We increased the space dedicated to the film on the main user interface. Therefore the renewed FLIGBY has more an interactive miniseries look than a serious game one. That's a definitive move toward the entertainment direction providing more focus on the story, the characters, and the interpersonal conflicts among them.
Enhanced entertainment factor: Turul's story regrouped into 7 episodes
In line with the OTT video consumption trends, FLIGBY v2.0 gets an interactive mini-series-like setup. Our developers regrouped the original 23 scenes into seven 45-minute episodes, just like a season of your favorite television series. It will help users to manage their time more effectively following patterns they prefer when using video and game streaming services.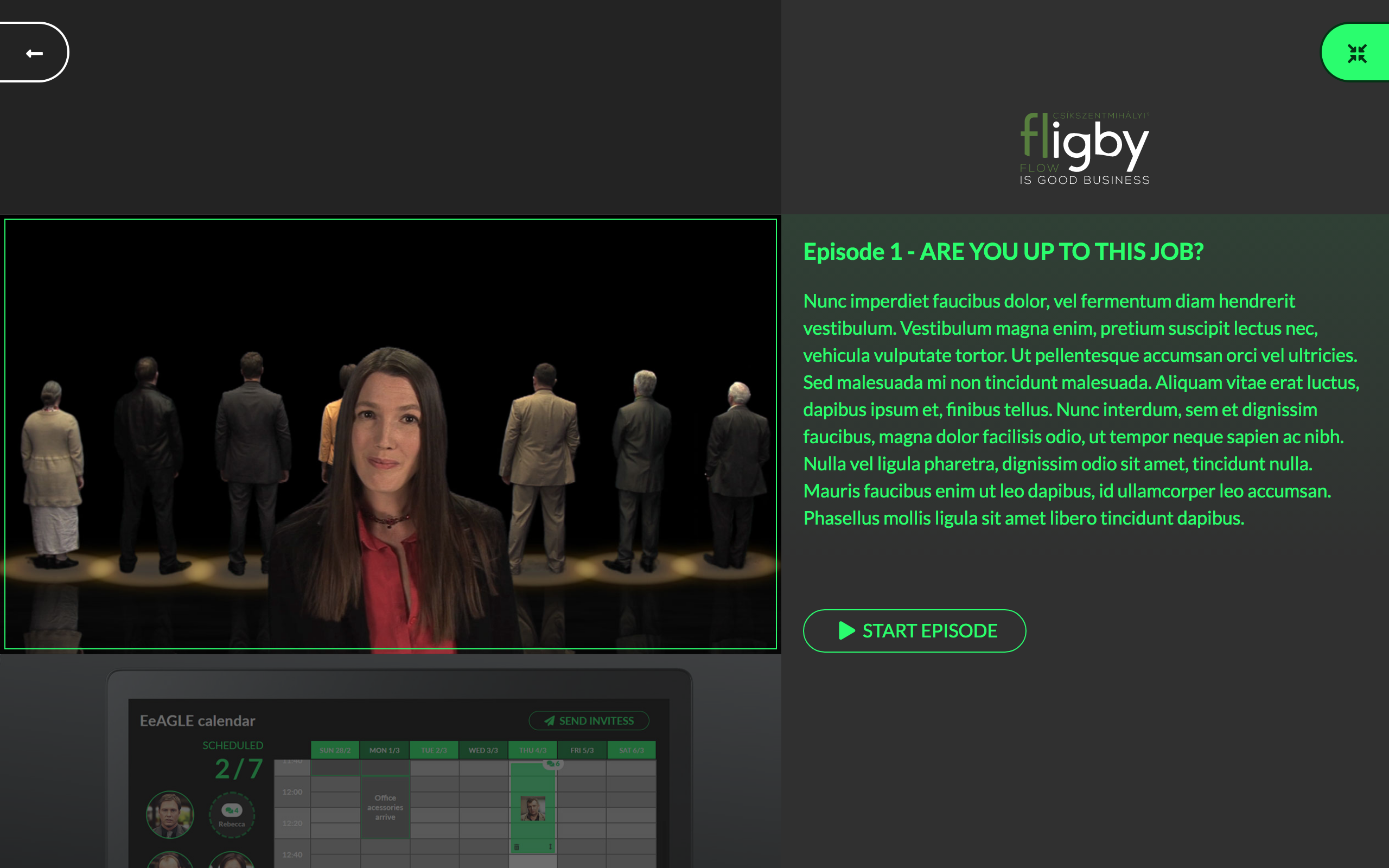 For more advanced navigation we have created a special episode selector surface with a short description of each episode.
More direct and dynamic feedback
One of FLIGBY's most valuable benefits is that it shows your managerial decisions' impact in real-time. You decide as Turul Estates general manager and see the immediate reaction of your colleagues. This includes indicating their instant mood-changes as well which remain unfolded under normal circumstances. Flow-map visualizes your colleagues' actual psychological state and provides information on their current motivation level. Flow-map was developed by Prof. Csikszentmihalyi, first published in his bestseller, "Good Business".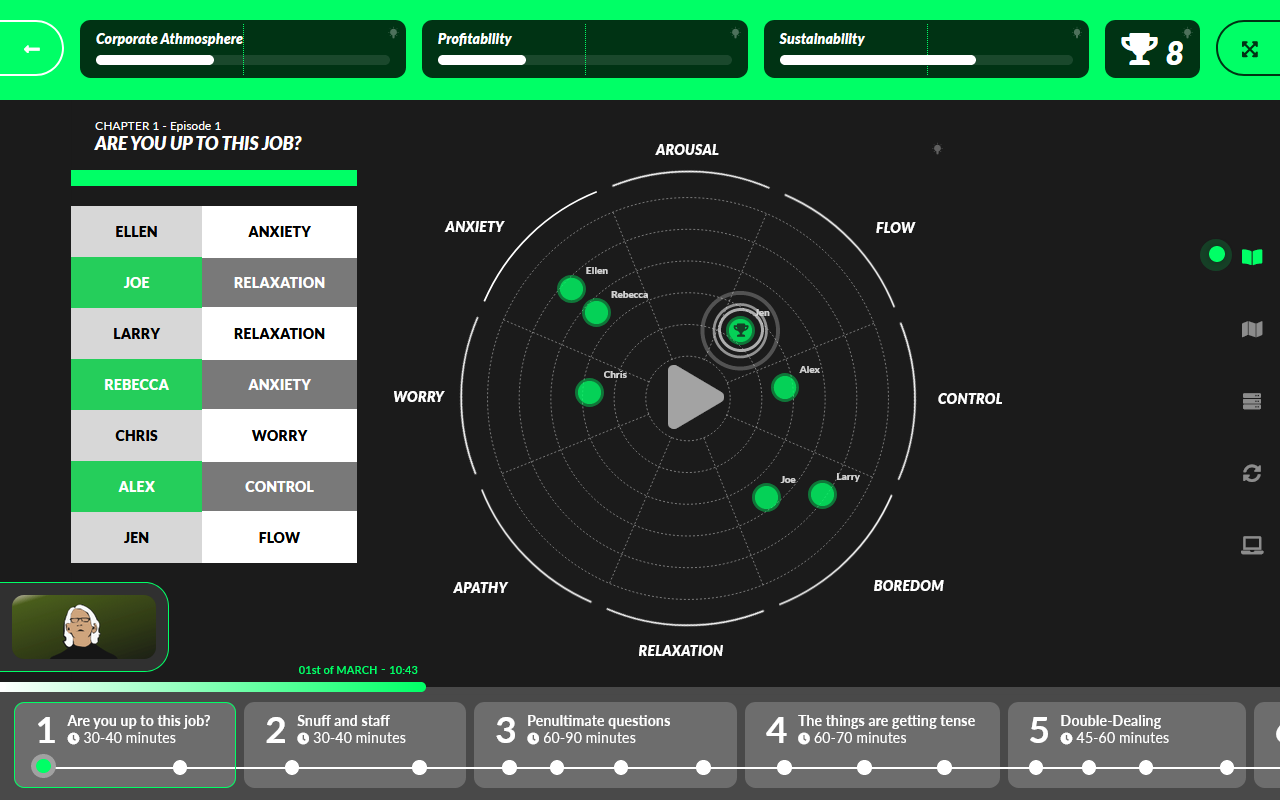 Now your virtual colleagues' movements on the Flow-map are shown right after every decision you made. (You do not have to go to the feedback section leaving the major user interface, the Flow-map displays automatically.) It helps you to understand the consequences of your leadership behavior on the go. For this, we implemented a special layer over the video-screen. It's like a head-up display and indicates all major changes without disturbing the flow of the story.
UI optimized for mobile devices
Many of the FLIGBY users are waiting for this: making our simulation more suitable for mobile devices. This is an important trend also on the market of learning&development applications: using them on the go.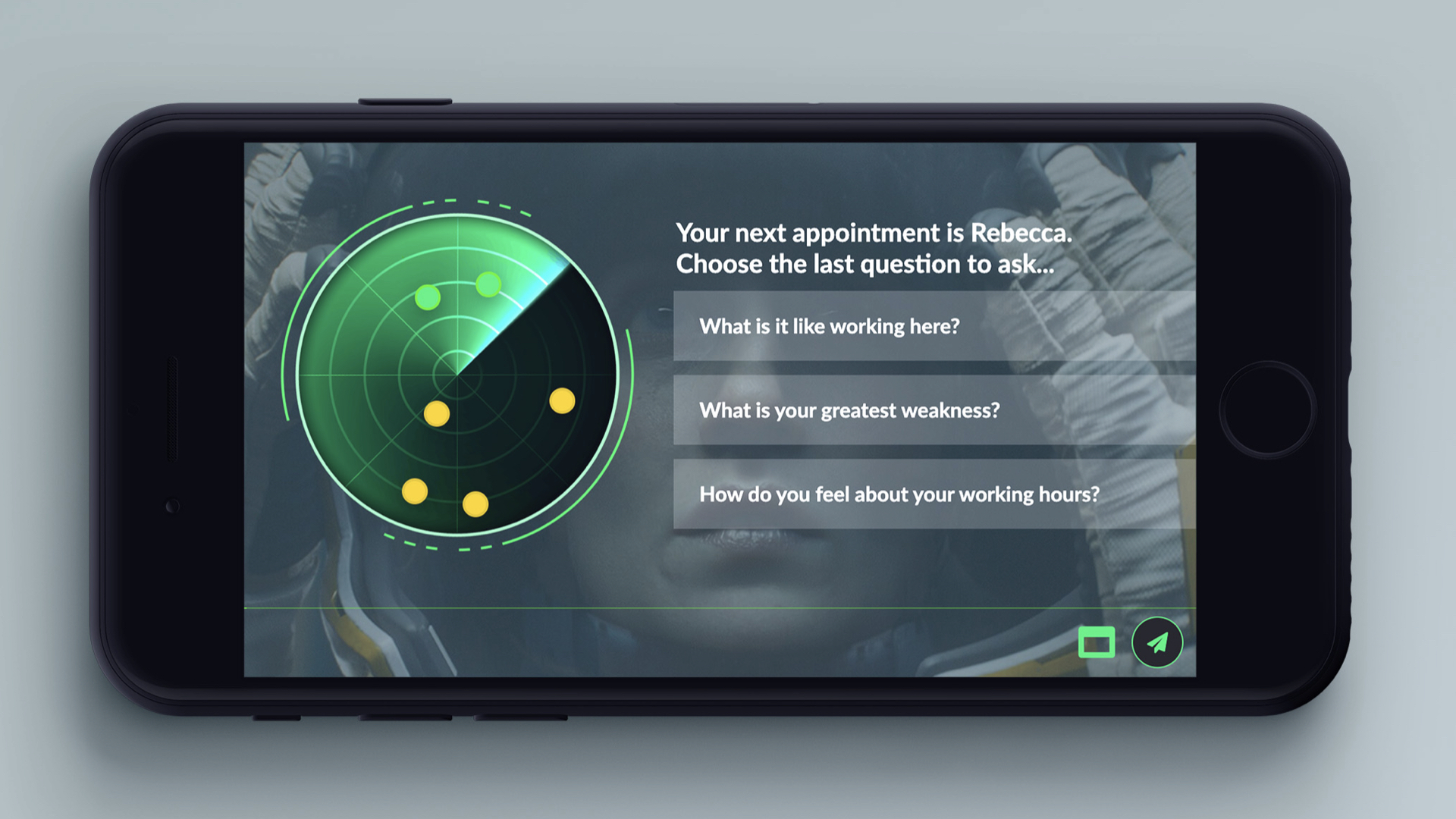 With its adaptive UI design, you can use FLIGBY v2.0 easily on your tablet or smartphone too. Just like in the case of your favorite video streaming service.
Redesigned "Interview challenge"
Interviewing your staff is an important action when you take over the general manager position at Turul Estates. It provides the opportunity to get to know them better and to understand their expectations toward your person. Long story short, it's a strategic moment.
The interview exercise seemed way too long, and some of our users found the feedback received from Mr. Fligby a bit much in many cases. Our experts redesigned this part of the simulation to ensure a smooth flow of the events.
Media Library Light
The user's perception of this function was contradictory: some liked it very much, others found it less helpful considering the lengths of the texts. Based on the valuable feedback of the FLIGBY community we made the decision: the Media Library has to be renewed. Fewer texts with more direct links to the actual happenings of the story. We call the new solution "Media Library Light", referring to the compact selection of the original items. No worries, all original entries will be still available, but newly as a function of the Metrix (FLIGBY's account management and reporting module). We will launch this feature early next year.
Good news, that the short videos will be re-edited too, offering a more direct explanation of the given topics. No more squirrels before Prof. Csikszentmihalyi's explanation, I'm sure that hardcore fans know, what I'm talking about 🙂
My Computer
In the FLIGBY story, you, as the general manager take the main role. You decide, based on the information provided by different sources, including the emails of your people. To allow you a more comprehensive overview of these messages, we have created a special function, called "My Computer".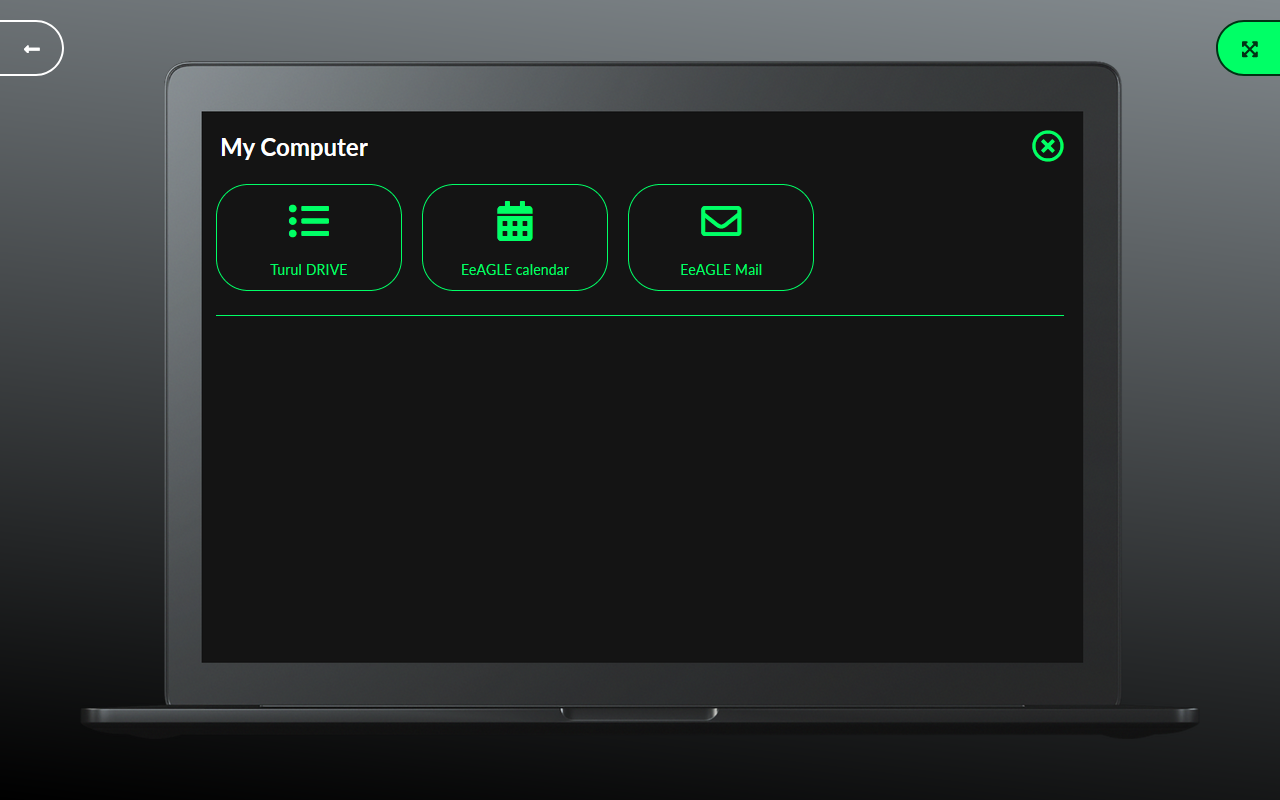 Click on its icon and you will find all the emails in one place, just like on your real computer. And there is also the Turul Drive, providing you access to special new contents, like HR files, or the archive of board meeting memos.