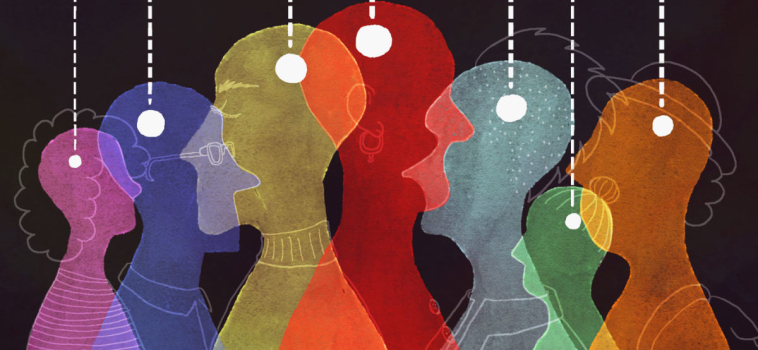 Diversity, Equity and Inclusion in FLIGBY
The ideal team needs to be diverse
Addressing diversity and inclusion in leadership development became a strategic consideration. The primary task of the FLIGBY simulation game is to teach people managers how to create a well-functioning team. We know today that the ideal team needs to be diverse in gender, age, education, personality, skill set, experience, motivation, and knowledge if we want increased productivity and innovation. To benefit from the diverse perspectives and skills reflective of everyone on a team, all members need to feel their differences are valued in an inclusive environment. All employees need to feel respected, involved, and connected to tap into the richness of ideas, creativity, and problem-solving approaches. A study that gathered data on 7,615 firms, published in the Journal of Economic Geography, found that businesses run by culturally diverse teams were more likely to create new products than homogeneous teams.
One of the significant challenges to effective collaboration is the inevitable workplace conflict in diverse teams. For that reason, leadership development programs must teach the necessary interpersonal skills to navigate individual differences. In FLIGBY simulated reality, there is plenty of sharp conflict between diverse team members of the Turul winery who bring with them their very distinct personal values and goals. Strong female characters are also present, even in scenarios involving age harassment.
Leadership has no gender
The Game has strong female characters to reflect our philosophy that good leadership has no gender. Those leaders aware of their masculine and feminine traits can use them to their advantage and allow everyone to benefit from competencies sometimes ascribed to a specific gender. FLIGBY's talented sales manager Rebecca is an excellent example of a leader overemphasizing her masculine side out of the conviction that it is the only way to ensure her colleagues will respect her leadership style.
Diversity, Equity and Inclusion in Experiential Learning
Cross-generational collaboration
Generational differences also appear in the team dynamics at the Turul Winery. Ellen, one of the oldest employees but perhaps not an ideal match in the sales and marketing role, conflicts with young and ambitious Rebecca, who could be accused of age discrimination and harassment. Introducing this relational dilemma allowed us to put our players' attitudes toward inclusivity and diversity to an actual test and show the consequences of unethical behavior without the typical oversimplifying.
Unethical behaviors bring toxicity into the workplace environment that can cause long-term damage to relationships, culture, and productivity. Today's widely publicized instances of social unrest speak to the degree of courage needed to combat and change such behaviors. A zero-tolerance policy regarding discrimination or harassment is necessary for cultural change in an organization and wider society.
It is not enough to abolish discrimination; leaders must see the advantages of cross-generational collaboration to benefit from it. From the intangible wisdom of those who have seen the organization grow and evolve over time to fresh ideas, optimism, and technical expertise that may belong more often to new employees, diversity of skills cannot be wrong. From traditional approaches to communication, like the understanding and use of workplace politics and diplomacy that have evolved through years of experience to having good knowledge of how to use new technologies to reach potential customers, expertise comes in many forms. All can benefit from mutual mentoring and knowledge sharing. 
FLIGBY's risk-free virtual environment is an excellent playground for practicing these new behaviors and trying on different mindsets and perspectives. The simulated reality format creates an environment conducive to experiential learning.